Zagreb's courtyards – Advent style
December 1, 2016.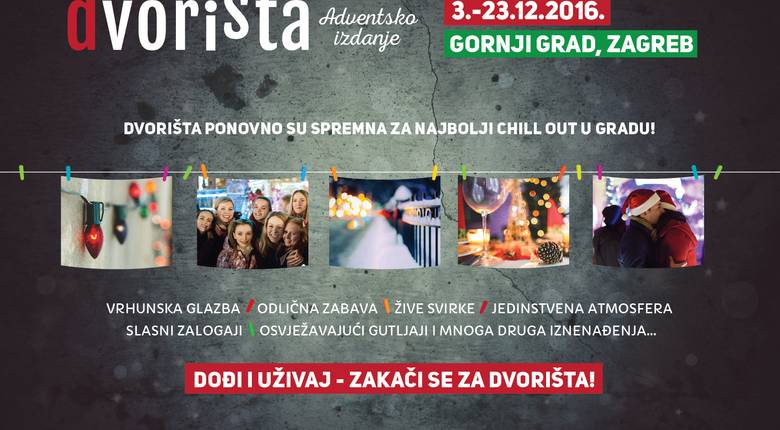 This December, the cheerful holiday atmosphere will spread to the oldest part of Zagreb as we bring the Advent magic to the beautiful old courtyards of the Upper Town. In response to your many queries and requests, we bring you a new, Advent edition of The Courtyards, the "best fun in town"! (Jutarnji list)
Over the course of three weeks, from Saturday, December 3rd until Friday, December 23rd, daily from 17:00 to 23:00 hrs (and from 10:00 hrs on Saturdays) the cheerful atmosphere of Advent in Zagreb will spill over into the quiet streets of the old Upper Town. All of you Courtyards fans can choose one of its five locations, from the courtyard of Zagreb City Museum at Opatička 20 to the Amadé Palace atrium at Demetrova 1.
Hidden in the quiet corners of the idyllic Upper Town streets, warm, pleasant, romantic and festively decorated old courtyards will be filled with sweet winter fragrances of cinnamon and cloves in mulled wine, hot brandy and holiday sweets for you to enjoy, with Christmas music and daily live performances for an evening of great fun filled with goodwill and happiness - this Christmas holiday, The Courtyards invite you to enjoy Advent parties like you have never seen before.
This December, make sure to put on a pair of warm boots and your favourite wool mittens, take a stroll to the Upper Town and have fun in The Courtyards!
During Advent, the Courtyards are open from 17:00 until 23:00 on weekdays, and from 10:00 until 23:00 on Saturdays.
Every night, there will be music in Courtyards from 19:00 to 22:00, with an additional musical programme from 10:00 to 13:00 on Saturdays.
The Advent edition of the Courtyards includes two new locations: the Croatian Natural History Museum and the Zagreb City Museum. A complete makeover of the four courtyards has created a winter tale atmosphere in the spirit of Christmas holidays.
___________________________________________________________________
Exhibition:
Ivan Kukuljević Sakcinski – The Initiator of Croatian Identity
mon-fri: 10 am - 8 pm
sat-sun: 10 am - 1 pm

Museum action:
"Under the tail at Jelačić Square // 150 years since the erection of the monument to Ban Josip Jelačić in Zagreb, December 16, 1866
mon-fri: 10 am - 8 pm
sat-sun: 10 am - 1 pm
Contact person: Nikolina Mađar, museum educationalist,
n.madar@hismus.hr
Croatian History Museum, Matoševa 9, T:01/4851-900, 091/1818208