Opening of the exhibition Varvaria / Breberium / Bribir: Historical Layers Revealed
November 12, 2019.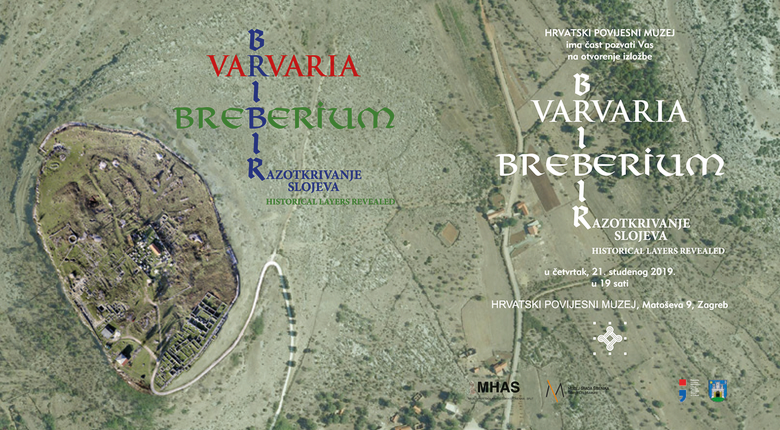 Croatian History Museum has the honour of inviting You to the opening of the exhibition Varvaria / Breberium / Bribir: Historical Layers Revealed on Thursday, November 21, 2019 at 7 pm
Bribirska Glavica is one of the most important archaeological sites in Croatia. Due to its favourable traffic and strategic location, it always functioned as a fortress, and it is known that it was the site of Liburnian and Roman Varvaria as well as medieval Breberium, seat of the most powerful Croatian medieval kindred, the Šubići of Bribir. The visible ruins on Bribirska Glavica and its rich past have been in the focus of archaeological interest for more than 100 years.
The exhibition is a result of collaboration between two national museums – the Museum of Croatian Archaeological Monuments in Split and the Croatian History Museum in Zagreb, joined by the Šibenik City Museum. The locality of Bribirska Glavica, with its rich archaeological layers – from prehistoric times to the early modern period – is not only the focus of this joint archaeological-historical exhibition, but also establishes a link between the future permanent exhibitions of the two museums. The exhibition is based on archaeological material, excavated by the centuries-long efforts of generations of archaeologists. The archaeological finds from the medieval layer of Bribir have been presented in their wider historical context and juxtaposed to outstanding written historical sources and artworks, some of which are here exhibited for the first time in a way to form a unique cultural-historical entity. There are several goals that the exhibition aims to achieve: point out the historical continuity of life in Bribir and encourage the relevant institutions to acknowledge the importance of its further research, conservation, and presentation; indicate the situation and position of both museums that are still without permanent exhibitions; use the selected historical sources to emphasize their national importance and the mutually complementary museum holdings; and place an accent on the interdisciplinary synthesis of archaeology, historiography, and art history as reflected in the exhibition concept.